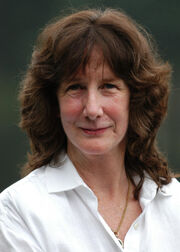 Lucia St. Clair Robson was born in Baltimore, Maryland, and grew up in West Palm Beach, Florida. She has been a Peace Corps Volunteer in Venezuela, a teacher in New York City, and a librarian in Annapolis, Maryland. She has also lived in Japan, South Carolina, and Arizona. She now resides near Annapolis, Maryland. Robson wrote several episodes of The Adventures of the Galaxy Rangers
In explaining how she came to write her first historical novel, Lucia said, "Along with my library degree I learned one of life's great truths: you don't have to know all the answers, you just have to know where to find them. As a public librarian in Maryland I gave book-related programs in the local schools. While gathering material for the talks, I ran across the story of Cynthia Ann Parker's life with the Comanches. I told the kids that this was a more fascinating story than anyone could make up.
Shortly after that I went to a science fiction convention and met Brian Daley, author of the Han Solo books. I mentioned Cynthia Ann's story to Brian and his editor who referred me to Pamela Strickler of Ballantine Books. She advised me to, "Write the best story you can, from the heart, to please yourself."
In 1982, Ballantine published Ride the Wind, which made the New York Times best sellers list. It also won the Western Writers of America's Golden Spur Award for Best Historical Novel of the year. Now in its 26th printing, WIND was included in the top 100 westerns of the 20th century, and has garnered more than 120 5-star reader reviews on Amazon.
I've written eight other novels that feature people and times seldom mentioned in history texts. …A historical novelist must do more than list which generals fought where and when. She tries to re-create the society in which people lived, and she has to make it so vivid that readers can feel as though they're living there too. I no longer collect a paycheck as a librarian, but my library training helps me find out what people wore, what jokes they told, how they insulted each other, what they ate, how they amused themselves, what diseases laid them low and how they tried to cure them.
As a writer of historical fiction, it's my job to create a plausible reality in a time long gone. A descendant of one of my characters once asked me where I got the stories I told in my book about her family. I told her I had either read them or made them up. She said I couldn't have because those were stories only the family knew. I blamed it on coincidence, but sometimes I do believe that novelists can "predict" the past."
Lucia was partners with the late science fiction writer Brian Daley for fourteen years. To find out more about her and her work visit www.luciastclairrobson.com