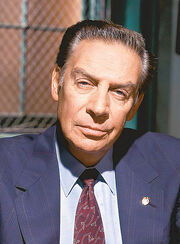 Jerome Bernard "Jerry" Orbach (October 20, 1935 – December 28, 2004) was an American actor and singer. He was well known for his starring role as Detective Lennie Briscoe in the Law & Order television series and as the voice of Lumière in Disney's Beauty and the Beast. Orbach was also a noted musical theatre star. His prominent roles included originating the character of El Gallo in The Fantasticks, the longest-running musical play in history, Chuck Baxter in the original production of Promises, Promises (for which he won a Tony Award), Julian Marsh in 42nd Street and Billy Flynn in the original production of Chicago. His role as Zachery Foxx on The Adventures of the Galaxy Rangers was his first as a voice actor.
Ad blocker interference detected!
Wikia is a free-to-use site that makes money from advertising. We have a modified experience for viewers using ad blockers

Wikia is not accessible if you've made further modifications. Remove the custom ad blocker rule(s) and the page will load as expected.